Home
Contact Us
News
Calculate Your 504 Loan Payment Here!
Current 504 Loan Rates:
10 Year:
20 Year:
25 Year:

Shoup's Country Foods expands near Frankfort with SBA 504 loan
from The Farmers Bank and Indiana Statewide CDC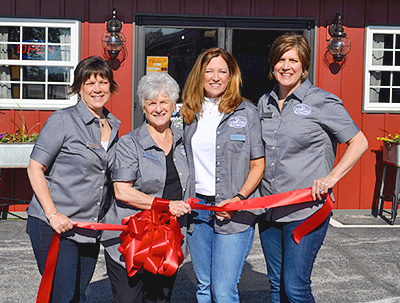 Fresh off its open house, Shoup's Country Foods, just south of Frankfort, is rolling into Memorial Day weekend and summertime with an updated appearance and new warehouse.

Amy Shoup Mennen says a just-concluded construction project freshened the 38-year-old country store's exterior, built a new warehouse and office space and doubled the kitchen and pack areas supporting Shoup's catering business. Mennen says, "For the first time, we are able to load our catering trucks inside."

The Farmer's Bank and Indiana Statewide Certified Development Corporation provided a loan for Shoup's Foods' project from the U.S. Small Business Administration 504 program.

Indiana Statewide CDC works with local lenders to provide SBA 504 loans to owners of small businesses. SBA 504 loans can give small business owners long-term, fixed rate financing similar to commercial loan terms available for large companies. Loans from Indiana Statewide CDC and partner lenders in 2016 provided more than $31 million to 44 Hoosier small businesses, creating or saving 480 jobs.

Mennen says, "The SBA 504 loan gives our company more borrowing power at a reasonable, fixed interest rate. And the loan process with the SBA, Farmers' Bank and Indiana Statewide CDC has been relatively easy."

Susan Ruch of First Farmers' Bank says, "Shoup's Country Foods is well-known in the area, and we were pleased to work with the Shoup family. The 504 loan is an important feature of our bank's commercial loan offerings. Borrowers are attracted by the 504 loan's low down payment requirement and long-term, fixed interest rate."

Shoup's Country Foods employs 14 people on a full-time basis and an additional 138 in part-time catering and warehouse jobs.

Shoup's Country Store opened on the site in 1978 selling locally-raised beef and pork and and is the most visible part of the growing business now run by the original owner's daughters.

Background:
Indiana Statewide CDC has invested over $494 million in more than 1,110 Indiana companies since 1983, creating or saving 27,000 jobs. Indiana Statewide CDC is the most prolific CDC in Indiana.

Since Congress created the 504 program, SBA 504 loans have funded over $62 billion to more than 130,000 small businesses. In turn, those small firms have created or retained over 2.1 million jobs for the U.S. economy.

Indiana Statewide CDC Executive Director Jean Wojtowicz says, "SBA 504 loans are effective because borrowing companies can put as little as 10 percent down and receive a low, fixed interest rate for as long as 20 years. The SBA guarantees bonds sold privately to finance a portion of the loan. With the guarantee, we can offer loan rates more favorable than conventional financing."

The Farmers Bank of Frankfort is a $500 million asset organization chartered in 1876 with headquarters in Frankfort, IN. The Farmers Bank is locally owned and operated with 10 banking offices located in Central Indiana providing retail, business, trust & asset management, investment, mortgage, and electronic banking services.

Shoup's Country Foods started by Tom and Carol Shoup as a custom meat-packing plant and has grown to include their country store, catering business, online ordering and Arborwood, an event facility, formerly The Frankfort Country Club. The Shoup's three daughters (Cindy, Amy, and Cheri) grew up on the family farm and now are raising their own families and are involved in various aspects of Shoup's Country Foods.

Shoup's new building includes large barn doors, desks and conference tables built from reclaimed wood from a downtown Frankfort building. A new conference room allows space for small corporate meetings, employee training, cooking classes and other events. Plumbing, wiring and lighting are all new.