Home
Contact Us
News
Indiana Statewide Certified
Development Corporation
The future arrives, with SBA 504 help, at Hoosier Pattern

Equipment financing makes all the difference in the world.

"We're very excited about the newest machine in our shop," says Keith Gerber, owner and president of Hoosier Pattern, in Decatur. "It's an ExOne 3D sand printer. It allows us to rapidly prototype very complex parts and deliver in a matter of days rather than weeks."

Gerber used SBA 504 financing for the 3D printer, the building housing it and an overhead crane with a loan from First Merchants Bank and Indiana Statewide CDC.  Dean Fuelling of First Merchants says, "Hoosier Pattern is an experienced, profitable company. The loan structure is a good opportunity to mitigate some of the risk for Hoosier Pattern and our bank because the SBA 504 allows Keith to amortize the loan over a longer period of time, increasing his likelihood of success."

Gerber says, "The loan process was well coordinated by the combined team from the Indiana Statewide CDC, First Merchants Bank and the SBA. I felt that the team was very supportive and encouraging of our vision."

Hoosier Pattern opened in 1997. Currently with 31 employees -- including two added when the 3D printer was installed -- Hoosier Pattern provides tooling for foundries serving agriculture, and auto and appliance manufacturing.
Warm Glow Candle Company, Centerville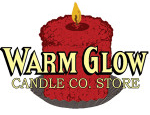 The first candles were made at least 2,200 years ago. Warm Glow Candle Company is using the ancient art -- and flexible alternative financing -- to build a modern business and landmark along I-70 at the Centerville exit in eastern Indiana.

Jackie Carberry's company started manufacturing candles in 1994. She opened a 3,000-foot retail shop in 2000. In 2004 she expanded to 11,000 square feet with SBA 504 assistance.

The company recently opened its latest expansion -- with another SBA 504 loan from First Bank Richmond and Indiana Statewide CDC. The main store now totals 20,000 square feet. Also new: an adjacent garden center with outdoor pavilion.

Warm Glow's manufacturing and retail employment totals 50 people -- its peak season is the fourth quarter -- and reaches stores and wholesale distributors around the country. "We can produce 15,000 candles a day by hand," Carberry says.

Warm Glow's home is easy to see -- a giant candle along I-70 is a beacon for tourists and shoppers looking for the company store.

"Our candles are highly-scented and long-lasting with a distinctive lumpy, bumpy exterior," Carberry says

The financing couldn't be smoother. "Without First Bank Richmond and the Indiana Statewide CDC, we might still be the little store we started with. What wonderful people they are to work with."

Connie Reeve of First Bank Richmond says, "It's unusual when a business puts a place on the map. Jackie has built such a business, and the SBA 504 loans have helped. It's a great application of the loan program."
SBA 504 financing for latest generation of Jasper business fixture

It's a new name, KlubHaus 61, and a new German-influenced appearance for the former Jasper Country Club clubhouse. The building's new owner, Alpine Enterprises LLC, is a fixture in Jasper's business and cultural scene.

Alpine Enterprises also owns the popular Schnitzelbank German restaurant and Schnitzelbank Catering. Alpine was a logical choice to buy the country club building when it went up for sale. As for the new name, Gail Hettinger of Alpine Enterprises says, "KlubHaus is in keeping with our local German influence. The '61' part recognizes the year, 1961, when Larry and Betty Hanselman opened the Schnitzelbank."

German American Bank and the Indiana Statewide CDC helped Alpine Enterprises buy and equip the building with financing from the U.S. Small Business Administration 504 loan program.

KlubHaus 61 is an important project for the Jasper community, says Michael Kern of German American Bank. "The former Jasper Country Club building has hosted many memorable gatherings for both families and businesses in Jasper for many years, and the closing of the golf course and clubhouse were deeply felt in our community.  The desire of Gail Hettinger and Alan Hanselman (they are brother and sister) to bring the building back with a whole new German look and feel is being widely applauded," Kern says. 

The SBA 504 loan helps Alpine plan its finances. Hettinger says, "We appreciate what the 504 loan is doing for us; it gives us a locked-in interest rate and requires a down payment that is much lower than regular commercial loans."

Several area businesses have benefitted from the SBA 504 program through Kern, German American Bank and the Indiana Statewide CDC. Kern says, "The Indiana Statewide CDC has always been a pleasure to work with on projects such as this. The long term fixed rate is a great benefit to Alpine Enterprises LLC as it expands Schnitzelbank Catering service within this facility."

Please do not forward non-public information through this website.